What is land and how we can earn from it?
Standard land in the Rio city
In the Minerio metaverse, you can buy your Miners and create a Mining site on the industrial sites.
Each site provides the services you need and charges you for the
RIOZ tokens. Rent a warehouse, power supply, network access, security, administration, etc. are some service examples.
Each site is divided into several sub-areas called the "Lands". After Purchasing a Land, you can start staking your Land NFT and generate RIOZ tokens as the Land's rent.
Buying a land NFT to start playing the game is unnecessary. you can easily rent land from the game store, but if you own land, you can start your mining site on your land, rent-free!
The wallet address on the blockchain that holds a Minerio land NFT, is a landowner. Landowners will have an online dashboard on Minerio metaverse to control and monetize their lands. Also, they can sell their lands on the Minerio marketplace or any other marketplace that the game supports.
For every Minerio land, there is only one NFT. each land has a unique ID that shows the location, block count, and other metadata of the land. If you own a land NFT, you own that specified land ID on the minerio metaverse and the explained benefits will be yours.
1- Get Free land in Dubai city!
For every Rio city landowners. The size of the reward land in Dubai is based on the rarity & size of your Rio city land. Dubai is the next city in the Minerio metaverse.
2- Get Free miners!
all Rio city lands come with a free miner. When you buy land from the Minerio marketplace, you will get a free miner for each land block at the game launch. The quality of the miners is based on the rarity of your land. For example, if you buy a 10-block legendary land, you will get 10 class A miners for free.
3- VIP access to
Rioz token pre-sale!
For every Rio city landowner, there will be a special VIP right to participate in the Rioz token pre-sale. With VIP access, you can be certain about making the most profitable and secure investment.
This promotion is not an all-time event and may end at a certain time. Please follow our
official Twitter account
to learn more and get the latest news.
Based on the investment you make in Minerio lands, you can expect various profits. For example, with buying and holding land, you can sell it shortly as the demand for land goes up so the price will rise.
Also, you can make a profit by signing a staking smart contract and getting rent money from the miners. Land staking is renting your land to miners. you can create a revenue stream for your land by signing a staking smart contract and getting rent money from the mining community. please read the related section on the whitepaper to know more about land staking.
Land staking is renting your land to miners
Total lands available to buy: 681

Total districts: 7 (NW, NE, E, C, W, SW, SE)
The total supply of these lands is 674 and we won't add more lands to the marketplace anymore.
New land supply will be available after the opening of the next city which will be announced based on the project roadmap and community demand.
The rent for mining sites and factories that are not available for sale will be added to the overall reward pool of the game to use in the game token circulation.
There are three rarity and levels for Lands:
1.

Standard (Blue)

: Most affordable lands in the Minerio metaverse. Standard land generates standard rent with the rent smart contract. Standard lands in Rio city are in North & South districts.

2.

Common (Purple)

: Special lands that generate ~35% more rent than the standards. Common lands are a bit pricier than standard lands and generate ~5% more R.O.I in comparison. Common lands in Rio city are in West & East districts and the supply is limited because only west district lands are for sale.

3.

Legendary (Gold)

: The most-valued lands in the Minerio metaverse. Legendary lands are generating ~60% more rent than standards. These lands are not cheap, but the R.O.I is at the highest level of ~10% more than standard lands. Legendary lands in Rio city are in Central districts and have a very limited supply.
Lands variation (legendary / Common / Standard)
You can inspect your land NFT on our 3D Map or you NFT section of your wallet. You can download the latest version of Minerio's 3D Map for all platforms on our
website
.
We developed the 3D map so that you can
purchase your lands
or NFTs via this application. Also, you can explore the town and watch their NFTs' building progress.
The origin Minerio lands are the final version of NFTs that will be released later. With the origin lands, you can participate in the land staking and earn rent with your NFT.
The Minerio "pre-sale lands" will be swapped with the Origin NFTs soon. You can swap your NFTs via the Minerio marketplace. After the release of the Origin land NFTs, all new land NFTs will be in origin format and there will be no more pre-sale lands on the marketplace.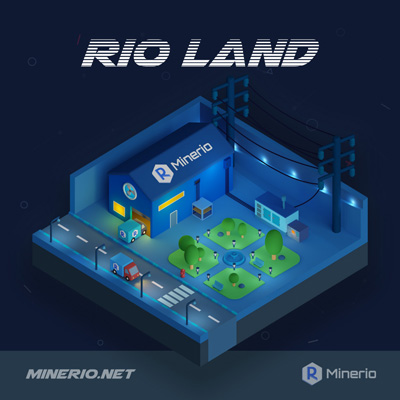 NFT art of the standard land
NFT art of the common land